COMDIAL is the second largest U.S. Manufacturer of Business Telecommunication Systems.
From our 500,000-square-foot facility in Charlottesville, Virginia, we engineer, manufacture, and market a complete line of business telecommunications systems and computer telephony-enabled products, all designed with one thing in mind--to satisfy you. From medical to legal, education to banking, and any number of other business types, we offer telecommunication solutions for virtually every application.
Comdial with its rich history, has a workforce of 900 dedicated employees, each averaging more than 15 years with the company. Our highly skilled sales and technical staffs stand ready to answer your questions and concerns. Quality service goes hand in hand with our commitment to quality products. Whatever your business communication needs, we're here to serve you.
Comdial Corporation, headquartered in Charlottesville, Virginia, USA, has a rich history in telecommunications. The company was founded in 1977, but its roots in telephone instrument manufacturing reach far back to before the turn of the century.
In 1991, the company started a strategic initiative aimed at computer telephony integration (CTI). Utilizing CTI, businesses can combine the power of voice and data networks, and substantially improve operating efficiencies and customer satisfaction. Comdial was among the first telecommunications manufacturers to commit to supporting the CTI standards being set by Novell® (TSAPI) and Microsoft® (TAPI). In recent years, the company has continued its development of computer-telephony enabled applications, and is currently a recognized leader in the deployment of CTI solutions.
In 1996, Comdial strengthened its computer telephony strategy by acquiring Aurora Systems, Inc. (Acton, MA) and Key Voice Technologies, Inc. (Sarasota, FL). Aurora Systems specializes in computer telephony applications software, while KVT is a fast-growing developer and marketer of price-competitive and feature-rich voice processing systems.
With an experienced and visionary management team, a competitive product family, and a leadership position in the emerging computer-telephony market, Comdial is well positioned to serve the telecommunication needs of virtually any small- or medium-sized organization.
The Impact SCS Systems
| | |
| --- | --- |
| | Comdial's Impact SCS is the premier digital communications system for today's technology elite. With all the capabilities of the standard Impact system, Impact SCS also includes Large Screen LCD phones, Full Duplex technology, and the groundbreaking IST pedestal; this is an optional IST port in the pedestal of the phone that allows you to share your phone line with other devices like modems or fax machines. |
The Impact Systems
| | |
| --- | --- |
| | The original bestseller, Impact continues to outpace the competition. With over 100 standard features, accommodations for CTI integration and expandable to 560 ports, the Impact is a true digital communications platform for a thriving business. |
The Impression Systems
It's easy to be impressed with Impression, Comdial's affordable digital phone system. In addition to its stylish telephones, Impression systems offer advanced features such as call distribution, T-1 digital trunking, and Microsoft™ TAPI compliance.
The Unisyn System
| | |
| --- | --- |
| | Unisyn is simply the most effective telecommunications solution for today's small businesses. Since it's a universal port system, Unisyn accommodates not only stylish LCD Unisyn phones, but also voice mail, answering machines, fax machines, modems, and any other industry standard devices. |
The InnTouch Concierge System
| | |
| --- | --- |
| | The key to staying on top of things in the hospitality industry is communication. That's why you need Comdial's InnTouch Concierge® Hospitality Package. InnTouch combines the familiarity of Windows® based software with a hospitality phone system and PMS to create a sophisticated network for controlling all of your communications needs. |
---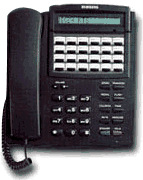 Remote Programming
2 Door Phones
Enhanced SMDR
VM/AA Compatibility
DISA (Voice Announcement)
Keyset Compatibility
Multi-language Display
Call Metering

Remote Programming
Distance and time does not matter when changing customer data. Remote
programming allows the technicians to access the system database from a remote
location.

2 Door Phones
You may want to have door phones for the backdoor as well as for the front door to
monitor separately. NX meets this requirement.

Enhanced SMDR
The SMDR provides detailed call data information and can produce a print out of the
customer database as well. This will be helpful when new programming is required.

VM/AA Compatibility
NX can communicate with any compatible voice mail system and automated attendant
by using many programmable parameters.

DISA (Voice Announcement)
DISA(Direct Inward System Access) allows a caller outside the system to access the
system to use DISA stations from where he stands. At that moment, user recorded
messages will answer the outside call like an automated attendant.

Keyset Compatibility
Current keysets for SKP-308H, SKP-36HX and SKP-816H can be connected to the NX.
Samsung's various keysets are from the same family.

Multi-language Display
English, Spanish and Portuguese are available for your LCD display. Thus language
will not be an obstacle to using the display.

Call Metering
Three types of call metering are available to meet the needs of your call accounting
system.
http://samsungelectronics.com/phone/index02.html